December 7, 2021 – Lakewood Advisors, LLC has relocated its Manhattan headquarters to expanded offices on the 33rd Floor of 570 Lexington Avenue, New York, NY 10022.  The new headquarters are in the original General Electric Building, designated a historic landmark by the New York City Landmarks Preservation Commission.
Built in the gothic style, the building's interior and exterior have elaborate art deco decorations of lightning bolts illustrating the power of electricity.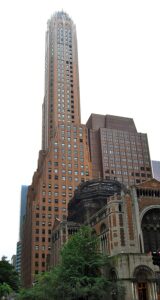 Edward Grebow, Managing Director of Lakewood Advisors said, "As we begin our 4th year of operation, our growing global business requires addition space and more robust technology. After two years of pandemic-induced physical meeting shutdown, we are seeing renewed client visits to New York along with a growing number of virtual meetings. Our new offices have been outfitted to accommodate both needs.
Lakewood Advisors new headquarters is located at the corner of Lexington Avenue and East 51st Street. Served by the 4 and 6 trains, the 51st Street subway station is situated directly below Lakewood Advisors' new offices.
About Lakewood Advisors:
Lakewood Advisors is a New York City-based boutique financial advisory and investment banking firm serving middle market firms and organizations.  Lakewood Advisors has particular expertise in dealing with media technology, media, financial services, and industrial companies.  With four senior partners in Japan, Lakewood Advisors has unique relationships with Japanese media, technology, and pharmaceutical companies.  Lakewood Advisors also is frequently called upon to serve as financial advisor to labor organizations and companies in complex labor relations situations.